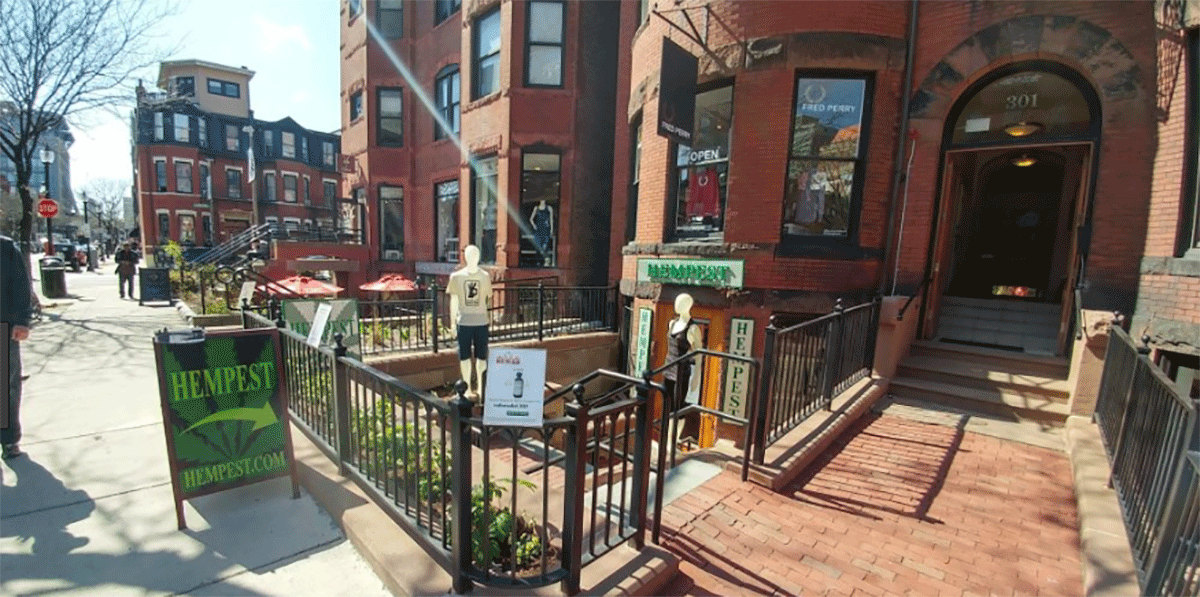 The Hempest has long been near the front of the Cannabis industry on the East Coast. Since 1995 we have passionately devoted ourselves to educating the public about the misinformation surrounding cannabis, the insanity and disproportionate affects of the drug war, and the horrible environmental repercussions from the illogical decision to demonize one of the earth's most beneficial plants. Knowing that it is ultimately dollars that create change, our goal was to establish a marketplace where one could support Cannabis in the form of Hemp products. We walked, talked, wore, ate and breathed Cannabis for over 2 decades right in the middle of Newbury St, Boston's version of Rodeo drive.
Since the time when we started, we have witnessed some large swings in the public's opinions on Cannabis. In 1995, public opinion in favor of legalizing cannabis was at about 27%, today it is at about 63%. This stems from the effort from organizations like NORML, Drug Policy Alliance, Marijuana Policy Project, and thousands of other entrepreneurs like ourselves who helped educate the public and counteract one of the biggest misinformation propaganda campaigns of our lifetime. We believe this grass roots effort, combined with an opportunity to support it financially, is essential in facilitating the change we want to see. We were incredibly fortunate to have met so many people in this industry over the past 20 years who share this philosophy, and we have watched and known many who started their own farms as legality paved the way for opportunity.
In our opinion, CBD has become quite possibly the biggest catalyst for a dramatic change in our Cannabis laws. While medical and recreational THC based Cannabis has dominated the conversation, and have been the most lucrative financially, CBD could be changing the opinions of even more to the point where federal legality of all Cannabis is inevitable. CBD is not psychoactive, which opens up it's market potential substantially. It would not be surprising to see CBD products soon lining the shelves of Costco, and Whole Foods, and other super markets in the near future. However, it is essential that the market be able to produce quality products to support demand. As Boston's most trusted CBD source, we have always made it a point to supply quality, and we have built an incredible customer base because of it. Over the past 2 years, we have seen numerous unscrupulous smoke shops selling inferior CBD products that are either untested, or contain far lower amounts of CBD. We have even so called CBD stores that are being rapidly franchised to try to capitalize on such a quickly growing market. This is the biggest problem the industry faces today.
Unfortunately there are a couple of huge CBD isolate importers that supply a huge portion of the CBD market. Not only do these products lack other cannabinoids and terpenes that provide the entourage effect, but much of it is unregulated and untested, and comes from industrial hemp plants from Romania, or China with little to no oversight on the cultivation or extraction process. Some of these massive importers just brand the same product with multiple brand names to appeal to that particular market segment. The brands we carry at The Hempest are completely different. We carry brands grown in the USA under legal industrial hemp programs. These programs are highly regulated, licensed, and require rigorous testing. All our brands provide third party lab tests which we are always happy to pass on to our customers. The sheer volume of our clientele gives us a lot more insight into what brands have been beneficial for different conditions, and we are constantly educating our customers to the absolute best of our abilities. There is a reason we get a lot of doctor referrals to our shop. We have a 20 year commitment to quality, and a commitment to bringing all the benefits of Cannabis into the public light.
We know CBD is new to so many people still, and we want to be sure people are getting high quality products before they form an opinion about whether or not it works. Be sure to do your research. If you do, we are sure you will find your way back to us, as we carry the best there is to offer in CBD. Thanks for all the continued support!